We are third generation crane operators with 33 years of experience in the construction and maritime industries. In June of 1999, we opened National Crane Inspections, LLC. It is a nationwide company and a proven resource that is equipped to perform and take responsibility for its work. Our mission statement is Quality, Commitment and Service.
This is our official U.S. Governmental Certification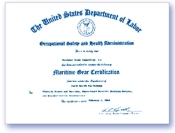 It is an important document, proudly displayed upon our office wall and is reproduced as a part of our business cards. It is your assurance of government recognition and accreditation by the Department of Labor under 29 CFR 1919.
With these authorizations, our primary function is to conduct inspections and certify cranes, derricks, hoists and material handling devices. Following a unit test and/or examination of your equipment, we are permitted to issue you a certificate of approval.
Typical areas in which we perform our services include inspection and certification of hoisting equipment and both floating and land-based maritime equipment.
Not only does this assure you of maximum safety conditions, but will give you countless other advantages such as:
Your employees, knowing that you have taken every step toward assuring their well-being and safety, will reflect appreciation in improved morale, loyalty and efficiency.
Insurance premiums, in many cases, will be reduced.
You will save executive time in difficult interpretation of governmental language. Implementation of rulings becomes almost automatic.
Our fee services are time-based. The expert, complete mechanical inspection provided may well be worth many times the charge. We will call attention to equipment malfunctions requiring immediate measures necessary and procedures to prevent further damage.
Offering- wide variety of services:
Complete OSHA Compliance Safety Inspections
Safety Engineering Consultation Service
Constant Up-Dating of OSHA Rules and Regulations
Assistance as Professional Witness in Areas of Mechanical Adjustment of Accident Losses and Damage Claims Pertaining to Material Handling Equipment
Rigging Considerations, Applicable Regulations Pertaining to Rigging Gear in General Industry
MagnaFluxing/Level 1 & 2 Certified N.D.T Inspection Field On Site Testing
Hooks * Fork Lifts * Boom Inspections * Lifting Spreader Beams * Slings * Material Devices * Ultrasonic Testing
U.S. Department of Labor Occupational Safety and Health Administration requires under Section (j)(iii) 1910-179 all hook magnetic particle or other suitable crack detecting inspection should be performed at least once a year.
Other Services:
Crane Inspections
Certification
Engineering
Fork Truck Inspections and Used Cranes Appraisal and Sales
Barge Survey Services
Equipment Rental (referrals only)
Maintenance and Repairs (referrals only)
---
"Dedicated to the Glory of God and the safety of workers"
---